Fits all 2016-2021 Honda Civic Non-Si 1.5T
Fits most variant models including 6MT, CVT, RHD, International Models, Etc.



Important Notes: 

NO ECU CALIBRATION REQUIRED FOR STANDARD BORE MAF HOUSING
BIG BORE MAF-SPECIFIC ECU CALIBRATION IS REQUIRED FOR BIG BORE MAF HOUSING
BIG BORE MAF BASEMAP CALIBRATIONS AVAILABLE IN BOTH HONDATA & KTUNER
TWO STEP PERFORMANCE "TSP" & PHEARABLE CALIBRATIONS COMPATIBLE BY SELECTING "RACE MAF" OPTION
Technical Notes:
If we could recommend an intake system for the 1.5L Turbo Civic Platform it would our Cobra Cold Air Intake System. However, for customers that do not wish to run a CAI, our Short Ram Intake System is also an option. Our CNC machined billet aluminum MAF Housing was designed to provide *factory-spec fuel trims (-4% of factory STFT & LTFT) for optimal drivability and performance. This SRI utilizes a 4" air filter and is available with two different MAF housing choices; a Standard Bore housing and a Big Bore housing. Both housings utilizes the factory MAF sensor, but feature two different diameters and profiles. As mentioned above, the Standard Bore housing is designed to provide factory-spec fuel trims WITHOUT any tuning whatsoever. The Big Bore housing allows a 50% larger volume of air in comparison to the Standard Bore housing, which is why a tune IS required. This larger volume of airflow reduces pumping loss and creates an unrestricted air path to feed the MAF housing with ambient temperature air.
Customers can switch between MAF housings without having to buy another intake system by purchasing our MAF Housing Conversion Kit
Customers can convert to a Cold Air Intake with our Cold Air Intake Conversion Kit
Performance Gains:
15 horsepower and 12 ft/lb torque gains in comparison to stock with Standard Bore MAF housing WITHOUT TUNE
20 horsepower and 15 ft/lb torque gains in comparison to stock with Big Bore MAF housing WITH Big Bore MAF basemap calibration on Hondata and/or KTuner
Larger gains to be seen at higher power levels with custom tuning
Please note that short ram intakes are extremely sensitive to heat-soak with this chassis (which is why we recommend our CAI). Performance gains will lessen as the engine and intake begins to heat-soak.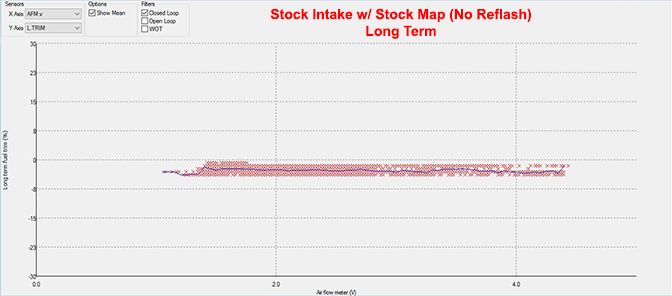 Above is a graph of the long term fuel trims with the stock intake w/ air box and factory ECU mapping, or in other words a bone-stock car.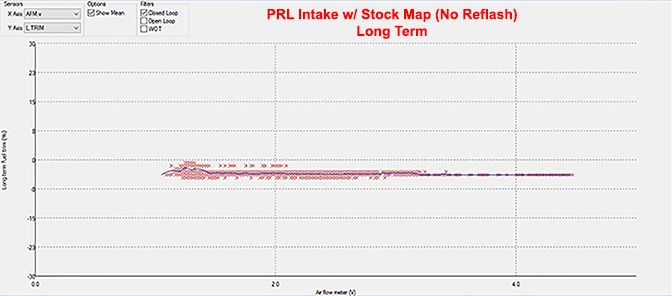 Here is a graph of the long term fuel trims again with, but with our cold air intake (Standard Bore MAF) and factory ECU mapping.
This is another long term fuel trim graph, but with our cold air intake (Standard Bore MAF) and +6psi Hondata off-the-shelf map.
Notice how consistent and similar all of the LTFT graphs are. Each graph is within -4 LTFT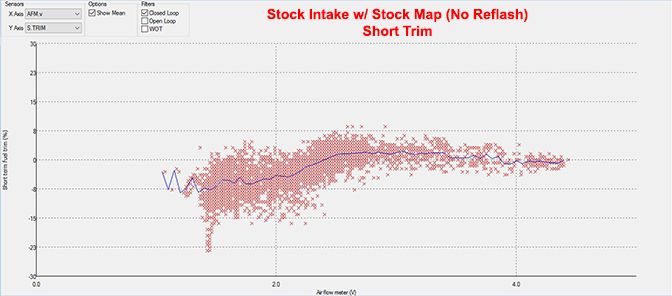 Above is a graph of the short term fuel trims with stock intake w/ air box and factory ECU mapping (stock car). 
Here is a short term fuel trim graph with our cold air intake (Standard Bore MAF) and factory ECU mapping.
This is another graph of the short term fuel trims with our cold air intake (Standard Bore MAF) and +6psi Hondata off-the-shelf map.
All of the STFT graphs display identical curves and consistency.
Vehicle Manufacturer Warranty & Emissions Disclaimer:
Some items used and/or installed by PRL Motorsports may void portions of your vehicle's factory warranty. PRL Motorsports accepts no responsibility for compliance with vehicle's factory warranty.
Disclaimer:
Please note some PRL Motorsports products are designed for maximum effort performance applications. Manufacturers can't control the severity of off road terrain, driving habits, stress of high-performance, quality of installation, and offers no warranty of fitment or performance for a particular application. Some of our products require fabrication skills to install and all products should only be installed by a qualified fabricator or mechanic.
PRL Motorsports Limited Warranty:
PRL Motorsports warrants PRL branded products to the original retail purchaser that all parts/components manufactured by PRL Motorsports or sold under the PRL Motorsports brand, and directly purchased from PRL Motorsports or an Authorized PRL Motorsports Dealer honor a 12-month limited warranty from the date of purchase against manufacturing defects in the materials and craftsmanship. (Excludes other manufacturers' components that may be part of a product's assembly such as a turbocharger, blow-off valves, etc.) This Limited Warranty is void on all products found to have been used in racing or off-road applications, of any nature, whatsoever, and on all products that show evidence of abuse, lack of proper maintenance, improper installation, misapplication, alteration in any way whatsoever from PRL Motorsports original intent or design.
If a PRL Motorsports branded product covered by this warranty fails due to a manufacturing defect we will repair or replace the product, without charge, at our discretion. Only original, unaltered, unmodified materials and abnormal workmanship are covered by this policy.
Limited Warranty does NOT cover minor cosmetic inconsistencies due to the overall manufacturing process (such as, but not limited to, anodizing inconsistencies, rotomolding inconsistencies, mold parting lines, etc.). Damage caused by abuse, vehicle accident, improper care or installation, negligence, or the natural breakdown of colors and/or materials over extended periods of time and usage is not covered by warranty. This includes items that were in contact with fuel, oil, and other fluids, as well as items exposed to long time heat. Some fuel system hose lines or components are subject considered to be "Wear & Tear" items and are not covered by warranty. The use of thermal coatings, heat-wrap, insulation or any coverings not intended for use by PRL Motorsports is subject to warranty void. Damage not covered under warranty may be considered for repair for a reasonable rate or a reduced price for a replacement component. For information on this, refer to the "Wear & Tear" Section
PRL Motorsports branded turbocharger upgrades (P600) are subject to a 1-year/12,000 Mile Limited Warranty due to nature of high-power, maximum effort application and "Normal Wear & Tear." Excess boost, improper installation, improper/lack of ECU calibration and/or use other than our intended use is subject to warranty void.
Non-PRL Product Warranty:
Products sold by PRL Motorsports but not manufactured by PRL Motorsports are covered by and subject to warranty of the manufacturer. PRL Motorsports can help coordinate communication with the manufacturer and/or coordinate returns, exchanges or warranty claims of these products as per the terms of the manufacturer's polices.
Filing a Warranty Claim:
In the event a problem does occur with a PRL Motorsports component or product, please contact us at support@prlmotorsports.com or 724-325-6300 during business hours. We will need the following information for all Warranty Claims:
Proof of purchase / receipt
Current contact information (shipping address, phone number & email)
Description of issue at hand
Supporting evidence
Install date / estimate of time installed
Name of installer
All Warranty Claims must be initiated before returning or sending in any parts to PRL Motorsports. Warranty Claims will NOT be accepted on parts that have been modified in any way.
Upon request from your customer service representative, your product must be returned directly to the PRL Motorsports Warranty Department at:
Returns Department

PRL Motorsports

1400 Randall Ct, Unit 104

Export, PA 15632
An RMA number will be provided to be clearly placed on the shipping label. The Dealer or Customer will ship the component back to PRL for inspection. Warranty is limited to replacement or repair of defective parts only and does not cover labor or shipping costs, vehicle down time or any other losses on your behalf. All shipping to Warranty must be pre-paid and insured. PRL Motorsports cannot be liable for lost or damaged in-bound packages.
If PRL Motorsports finds the product to be defective and within warranty period, PRL will repair, replace or issue credit to the customer at PRL's discretion. Any repaired or replaced product will be shipped via Ground shipping to the Dealer or Customer information provided during our initial Warranty Claims process. It is up to the Dealer/Customer to provide current and accurate information. Please note that no replacement warranty parts can be shipped until the original parts are returned to PRL Motorsports for inspection.
In the event that PRL does not ask for the damaged/defective part to be returned, we trust that the Dealer / Customer destroys or discards of this component.
Normal Wear & Tear:
Some products or components are subject to inevitable failure or wear with Normal Wear & Tear, and are not covered by our Limited Warranty. The chance or time of "normal" wear and tear failure may increase when products are operating outside of normality - i.e. high power, maximum effort, high heat, high use applications, old age, high ethanol content, high lead content, etc. PRL Motorsports reserves the right to deem products as "Normal Wear & Tear" for any reason.
Pair Your Part With:
Product title
Vendor
$19.99 | $24.99
Product title
Vendor
$19.99 | $24.99
Product title
Vendor
$19.99 | $24.99
Product title
Vendor
$19.99 | $24.99