Description
PLEASE ALLOW AN ADDITIONAL TWO WEEKS FOR POWDERCOATED INTERCOOLERS TO BE PROCESSED AND SHIPPED.
Fits all 2018+ Accord 2.0T & 1.5T
Fits 2019-2020 Acura RDX 2.0T with Minor Modification
Fits 2021+ RDX 2.0T with Minor Modification REQUIRES INTERCOOLER INSTALL KIT
Fits 2021+ TLX 2.0T with Minor Modification REQUIRES INTERCOOLER INSTALL KIT
Fits all variant models including 10AT, 6MT, RHD, International Models, Etc.
Overview
Important Notes:
NO ECU CALIBRATION REQUIRED

Intercooler Torque Spec: 18 ft/lb
OEM Honda Part Number 19710-6A0-A11 or 19710-6A0-A01
Technical Notes:
It's no secret that Honda's newer turbo platforms are extremely susceptible to heat-soak, especially when retaining the factory intercooler. Excessive heat-soak increases the risk of detonation and causes major power-loss due to high charge air and cylinder temperatures. These issues become even more prevalent with spirited driving and/or increased power outputs.
The PRL Motorsports intercooler upgrade decreases charge air temperatures while increasing potential airflow with its dense 27 x 3.5 x 7.25" 550+ horsepower rated bar-and-plate core. Our intercooler core which increases surface area by 85% and internal flow by 83% to allow optimal cooling and airflow.
This intercooler utilizes factory mounting spots with cast aluminum end tanks as well as all factory air ducts/shrouds. *To maintain consistency with most of our PRL product line, no cutting, fitting or trimming is required. Kits will come with all hardware needed for a seamless install.

Performance Gains:
Mid-range & top-end power gains
Major drop in post charge air temperature at peak
Increased efficiency & consistency in power delivery
Increased engine safety
Kit Includes:
Amazing
Why soak in heat when you could have a prl intercooler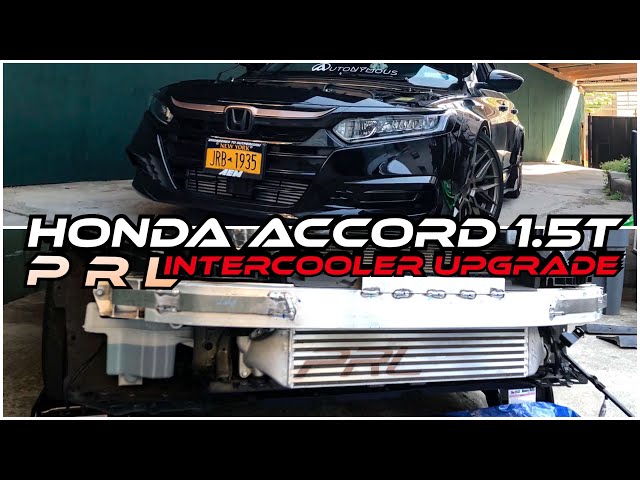 Easy & Worth Every Penny!
Install itself is very easy, car just breathes a lot better and zero lag. Enjoyed the installation process and the quality of the product. Thanks PRL for delivering an amazing Product.
Cool Performance
The intercooler is a quality overhaul from the stock part. What a difference in size and material. It was simple and easy to put in to the stock location with the pipe upgrade kit that I purchased. I am confident that this intercooler is a must have if you are working to upgrade your car performance.
Install on a 2021 Accord 2.0T
Love it thanks, can I get a link how to install the Turbocharger Inlet pipeline